Enormous ball room for birthday celebrations and special occasions,  super slide for your kids' enjoyment, music, and separate dining rooms with tables and chairs for everyone. We give our parties the personal touch as we are committed to customer satisfaction.  This is a great deal at a very affordable price.
CALL NOW TO RESERVE YOUR NEXT FABULOUS BIRTHDAY PARTY WITH US!
Scroll down for
Party Packages, Rules and Regulations, Food and Drink Menu
Party Package #1
PARTY PACKAGE #1
INCLUDES: HOSTESSES CHOICE OF TWO (2)  ACTIVITES: (Super Jumbo Slide or Super Jumbo Star-Walker or Soccer or Basketball or Swimming* or Batting Cages (10 yrs and older) or Inline Skating (10 years or older) or Flag football (10 years or older) or Modern Dance)
INVITATIONS
MUSIC, HOSTESSES, PAPER GOODS
PIZZA, SODA, WATER, APPLE JUICE (FOR THE CHILDREN)
GOODY BAGS
SPECIAL GIFT FOR BIRTHDAY CHILD
EACH CHILD RECEIVES A SOUVENIR CUP
PARKING FOR BIRTHDAY CHILD'S PARENTS (1 CAR)
ONE PICTURE CD OF PARTY (IF AVAILABLE)
PARTY AREA FOR 2  1/2 HOURS
****PRICES ARE SUBJECT TO CHANGE WITHOUT NOTICE****
PRICES: UP TO 15 CHILDREN $485 16 TO 20 $570        21 TO 25 $655 26 TO 30 $740        31 TO 35 $825 TAX & 19% GRATUITY WILL BE ADDED TO YOUR FINAL BILL EXTRA TIME IN DINING ROOM $200/HR.(IF AVAILABLE) EXTRA TIME IN BOUNCY HOUSE AND/OR SLIDE $200/HR. (IF AVAILABLE
****PRICES ARE SUBJECT TO CHANGE WITHOUT NOTICE****
PIZZA PIE FOR ADULTS $18 - 2 LT SODA $5.00
PARENTS MUST SUPPLY PARTY CAKE & CANDLES
*EVERYONE ENTERING SWIMMING POOL MUST WEAR SWIMMING CAP (CAN BE PURCHASED IN OUR PRO-SHOP) ** ALL SKATERS MUST RENT INLINE SKATES,  PROTECTIVE HELMET, ELBOW AND KNEE PADS FROM ASC. $5 PER PERSON ***PRICES ARE SUBJECT TO CHANGE WITHOUT NOTICE PLEASE CALL OFFICE FOR UPDATED PRICES.
Please Note: Dining Rooms and Batting cage area accessible by stairs only
RULES AND REGULATIONS FOR ALL PARTY PACKAGES:
Parents must supply Birthday Cake and Candles

Be Punctual: Coming and Going

Parents Supervision required

$300 deposit required (space is limited BOOK EARLY)

No outside food or drinks allowed

Food and Drinks for adults - Please See Menu

DINING ROOM & BATTING CAGE AREA ACCESSIBLE BY STAIRS ONLY
FOOD & DRINK MENU FOR ADULTS:
Click Thumbnail to Enlarge Menu
Rules and Regulations: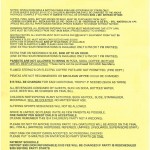 Click Thumbnail to Enlarge Rules and Regulations
Sample Invitation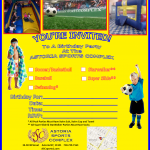 Click Thumbnail to Enlarge Invitation
FOR MORE UPSCALE PARTIES SUCH AS WEDDING'S, SWEET 16′S, BABY SHOWERS,  ENGAGEMENT PARTIES AND MANY MORE; REFER TO OUR FINE DINING CATERING HALL BELOW
CLICK HERE TO BE REDIRECT TO ASTORIA COMPLEX FINE DINING SERVICES