Enormous ball room for birthday celebrations and
special occasions,  super slide for your kids' enjoyment, music, and
separate dining rooms with tables and chairs for everyone. We give our parties the personal touch as we are committed to customer satisfaction.  This is a great deal at a very affordable price.
Scroll down for Party Packages, Rules and Regulations, Food and Drink Menu
PARTY PACKAGE #1 INCLUDES:
HOSTESSES
CHOICE OF TWO (2) SPORTS ACTIVITES: (Super Jumbo Slide or Super Jumbo Star-Walker or Soccer or Basketball or Swimming* or Batting Cages or Inline Skating or Modern Dance)
PIZZA & SODA***
GIFT FOR EVERY GUEST***
SPECIAL GIFT FOR BIRTHDAY CHILD
TABLE FOR ADULTS
PARTY AREA FOR 2  1/2 HOURS
PARKING FOR BIRTHDAY CHILD'S PARENTS (1 CAR)
PRICES: UP TO 15 CHILDREN $450
16 TO 20 $535        21 TO 25 $620
26 TO 30 $705        31 TO 35 $790
TAX & 19% GRATUITY WILL BE ADDED TO YOUR FINAL BILL
EXTRA TIME IN ROOM $200/HR.(IF AVAILABLE)
PIZZA PIE FOR ADULTS $18 - 2 LT SODA $5.00
PARENTS MUST SUPPLY PARTY CAKE & CANDLES
*EVERYONE ENTERING SWIMMING POOL MUST WEAR SWIMMING CAP (CAN BE PURCHASED IN OUR PRO-SHOP)
** ALL SKATERS MUST RENT INLINE SKATES,  PROTECTIVE HELMET, ELBOW AND KNEE PADS FROM ASC. $5 PER PERSON
***PRICES ARE SUBJECT TO CHANGE WITHOUT NOTICE PLEASE CALL OFFICE FOR UPDATED PRICES.
PARTY TIMES - FRIDAY, SATURDAY, SUNDAY, **ALL SCHOOL HOLIDAYS** - 12PM, 1, 3, 4, 6, 7PM
Please Note: Dining Rooms and Batting cage area accesible by stairs only
Party Package #2 INCLUDES:
PARTY AREA FOR 1  1/2 HOURS
Birthday Child Goes In Free - 10 Children Minimum *$25.00 per child
(1 HOUR COMBINED IN GAME ROOM, STARWALKER AND SLIDE, 1/2 HOUR IN DINING ROOM)
BOTH STARWALKER AND SLIDE (ONLY)
INVITATIONS
MUSIC, HOSTESSES, PAPER GOODS
PIZZA, SODA, WATER, APPLE JUICE (FOR THE CHILDREN)
GOODY BAGS
SPECIAL GIFT FOR BIRTHDAY CHILD
EACH CHILD RECEIVES A SOUVENIR CUP
PARKING FOR BIRTHDAY CHILD'S PARENTS (1 CAR)
***TAX & 19% GRATUITY WILL BE ADDED TO YOUR FINAL BILL
PARTY TIMES - SUNDAYS ONLY - 11 AM, 12PM, 1, 2, AND 3 PM- REMEMBER THE TOTAL PARTY IS 1 1/2 HOURS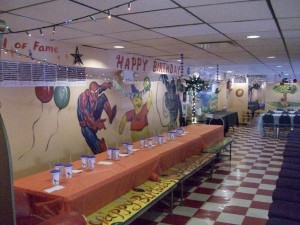 RULES AND REGULATIONS FOR ALL PARTY PACKAGES:
Parents must supply Birthday Cake and Candles
Be Punctual: Coming and Going
Parents Supervision required
$300 deposit required (space is limited BOOK EARLY)
No outside food or drinks allowed
Food and Drinks for adults - Please See Menu
DINING ROOM & BATTING CAGE AREA ACCESSIBLE BY STAIRS ONLY
FOOD MENU FOR ADULTS:

CHOICES
LASAGNA
BAKED ZITI
VEAL PARMAGIANNA
CHICKEN PARMIGIANNA
EGGPLANT PARMIGIANNA
SAUSAGE, PEPPERS & ONIONS
CHICKEN FRANCESE
GARDEN SALAD
PIZZA
SANDWHICH PLATTER
TURKEY & SWISS ROLLER PLATTER
SHRIMP PLATTER
HEREOS UP TO 6 FOOT
EMPENADAS:BEEF, CHICKEN, CHESSE
COLE SLAW
POTATO SALAD
MACARONI SALAD
DRINKS
2 LITER SODA (REGULAR,DIET,AND/OR SPRITE)
BOTTLE WATER
BEER: CORONA, HEINEKEN, COORS
COFFEE
EXTRAS
BALLOONS: LATEX
BALLOONS: MYLAR