At the Astoria Sports Complex we offer private 1-on-1 classes with the student and the teacher or group classes for all ages. From Mommy and Me classes to Adult classes with a maximum of 4 children per group class.
ENROLL ONLINE! ITS EASY AND CONVENIENT!
Click HERE For the 10 Step-By-Step Instructions to Sign Up Online
Step-By-Step Guide to Register Online
GROUP CLASSES FOR JULY-AUGUST SWIMMING PROGRAM SCHEDULE
CLICK SCHEDULE TO ENLARGE
AGES:
-MOMMY & ME AGES 6 MONTHS – 3 YEARS OLD
-PEEWEE AGES 4 – 6
-CHILD AGES 7 – 10
-ADOLESCENT AGES 11 – 17
-ADULT AGES 18 AND OVER
-ALL CLASSES HAVE A MAXIMUM OF 4 STUDENTS
INFO ON SWIM LESSONS
REQUIREMENTS FOR ALL:
SWIM CAP
BATHING SUIT
GOGGLES
ALL CLASSES: (EXCEPT ADULTS)
8 CONSECUTIVE WEEKS
PRICE= $140
30 MINUTES
NO MAKE-UPS
ONE HOUR CLASSES PRICE= $220
ADULT:
8 CONSECUTIVE WEEKS
PRICE= $240
1 HOUR
NO MAKE-UPS
MOMMY&ME:
8 CONSECUTIVE WEEKS
PRICE= $140
30 MINUTES
NO MAKE-UPS
BABY MUST WEAR SWIM DIAPER
Mommy And Me Classes
Mommy and Me class familiarizes young children (from ages 6 Months to about 4 years old) to the water and prepares them to learn to swim classes on their own. It is not designed to teach children to become good swimmers or to survive in the water on their own. Mommy and me classes give parents safety information and teaches techniques to help orient their children to the water. It also provides direction regarding how to supervise water activities in a responsible manner. It helps children develop self-steam and awareness as well as courage in water environments while improving their locomotion skills. These courses are a bonding experience that will fill instructors, parents and children with wonderful lifelong memories.
Pee-Wee Classes
Consisting of three basic levels of beginner, medium, and advance. It is an integral part of the overall aquatics and water safety program. The objective of Pee-Wee is to promote the developmentally appropriate learning of fundamental water safety and aquatic skills by young children about4 to 6 years of age. Skills are grouped into swimming and water safety categories. Children that need more practice will be placed in sub-category 2 of each level before moving on to the following level.
1.      Water Entry and Exit
2.      Breath control and submerging
3.      Buoyancy
4.      Changing direction and position
5.      Treading
6.      Swim on front and back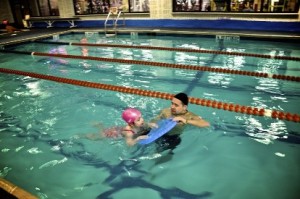 Child/ Adolescent/ Adult Classes
Teaches swimming classes and personal water safety skills in a logical progression. It consists of six levels. Participants in Beginner 1 are oriented to the aquatics environment and gain some basic skills in each category. Throughout the levels, participants build on the basic skills to learn various propulsive movements on the front, back and side. As the levels increase, participants learn to refine the different strokes and build endurance. Each level includes exit skills assessments that put together many of the skills learned in each level.